TVS IN EVERY OPERATORY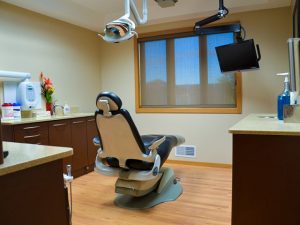 Whether you are sitting upright, or laying back, you can watch TV without having to turn your head! Our fully-adjustable TVs are on special mounts that can be rotated, tipped, or positioned to virtually any area of the treatment room. The TVs are especially popular with children, often distracting them from the sights and sounds of treatment!
---
REFRESHMENT STATION
Featuring made-in-Michigan Paramount coffee and Aquafina bottled water, our beverage station is designed to provide refreshment before and/or after your dental appointments.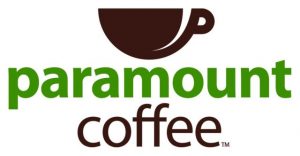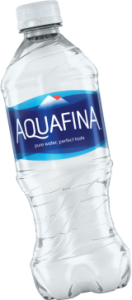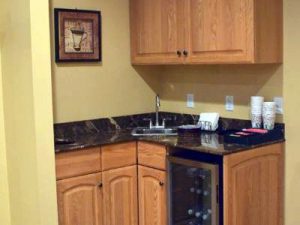 ---
PAPER & PLASTIC RECYCLING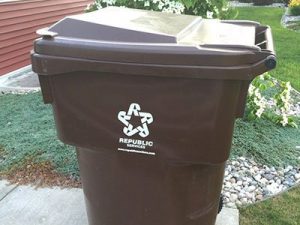 Dental offices can generate a lot of waste in order to comply with infection control policies, HIPAA, and other OSHA guidelines! Even having digital x-rays, patient records, paperless billing and many other computer-based systems, we have realized that no office is EVER truly PAPERLESS! Paper waste, cardboard and plastics are all recycled in our office through the city of Midland–we make our environment a priority!
---
INTERNET STATIONS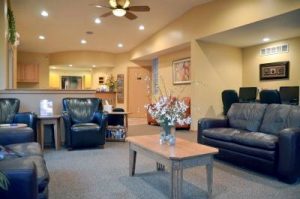 Need to use a computer to look something up? Need to apply for Care Credit financing? Of course, our free Wi-Fi allows you to connect to the internet via your phone or tablet. We also have two computer stations for surfing the internet, checking your e-mail, or whatever else you want to do!
---
NITROUS OXIDE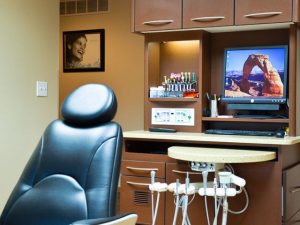 We have nitrous oxide (laughing gas) plumbed to our treatment rooms for your comfort. Sometimes you need a little help to feel comfortable in a dental office. Nitrous oxide can be that factor that helps you relax! Ask the doctors more about nitrous and whether anti-anxiety pre-medication could work for you.
---
LEATHER WAITING ROOM SEATING

"I love your living room!" has been said by patients many times over. McLaren Dental's waiting room doesn't feel like a waiting room at all. There is color-coordinated leather seating, plenty of magazines and books, and a HD TV to keep you entertained. There is also a children's play area, within full view for parents.
---
MASSAGE CHAIRS
With ultraleather upholstery and fully articulating headrests, the Pelton & Crane Spirit 3300 pneumatic chairs are designed for patient comfort, especially for longer appointments. But that's not all! Our chairs are equiped with cervical and lumbar massage within the chair itself! Lay back for your cleaning and experience a soothing wave of movement under your back throughout your appointment. Of course, the massage can be turned off if desired, but why would you want to? We promise that you will love our chairs!
---
COLOR-CORRECTED OPERATORY LIGHTING

Are your eyes sensitive to light? Our operatories are configured to allow us to dim our overhead lights if needed. In every operatory, we use special color-corrected lighting, providing light that mimicks natural daylight. This is more pleasing to the eye than other fluorescent or incandescent lighting and allows us to more accurately match the color of fillings, crowns, bridges and other dental work.
---
STAINED GLASS DECOR

Throughout the office, you will find original stained glass artwork in windows, doorways, as lamps, and even in our front-desk logo wall. All of these pieces were done by hand by Dr. Charles! Each piece was designed to encorporate common office "themes" and colors, but to be unique to the space or room it is displayed in. Feel free to ask questions about the artwork anytime!
With your visit, we also offer:
Soft fleece blankets and earplugs
Heated refreshment towels
Relaxing music with noise-reducing earphones